QUICK STEP: A STEP IN THE RIGHT DIRECTION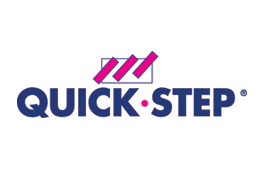 One of the most important parts of a residential, commercial, and industrial building is the floor. It receives the full force of daily activities, which makes it the first to show wear and tear. It is therefore imperative to make the right choices in flooring solutions. Do the right thing. Start by browsing the flooring solutions offered by Quick Step and Liberty Flooring Center.
Liberty Flooring Center is partnered with world-class manufacturers of top quality wood flooring products to provide durable, affordable, and beautiful flooring products in New Jersey and the surrounding areas. This includes carrying Quick Step's extensive line of flooring solutions.
Why should you buy Quick Step flooring products? Their laminate wood floors have a magnificent locking system that aids the prevention of water damage and the Advanced Finish Protection of ScratchGuardTM that shields them from everyday erosion. Be it daily wear and tear, burn, fading, staining, or household chemicals, you can be sure that your floors are protected. This guarantees that your floors will last for a very long time. Aside from the practical benefits, these floors are also pleasing to the eyes. They have beautiful natural grains, sheen, and textures. These planks are created with longer lengths reaching to 54 inches, so the finished floors will appear to have an authentic look of a true hardwood. These laminate wood planks can be fitting for both indoor and outdoor applications in the New Jersey climate. These can be used from the patio, to the living room, kitchen, bedrooms, and to the deck.
Quick Step products are proudly American. You get to feel a bit patriotic for choosing products that are creating jobs in the US.
The following are the different collections of Quick Step products:
Classic & Classic Sound Collection

This line consists of the 2-strip and 3-strip planks with design layer finishes such as Vermont maple, acacia, chestnut, and oak. These look like real hardwood. The construction procedure produced beautiful flooring materials that have narrow-strip hardwood appearance that are sturdy, flexible, and adaptable.

Dominion Collection

This line comes in two types: the hand-scraped laminate planks with textures that enhance the wood's unique grains while also duplicating the look and feel of artisan-made planks, and the soft-scraped laminate planks that has a faint carved finish and a classic antique look. Selections include maple planks, morning chestnut planks, and rustic sesame planks. Most of them have surfaces that look and feel like real hardwood.

Eligna

This collection is composed of laminate finishes of foreign and domestic exotic species, and oak flooring. The planks are extra-long reaching 54 inches. This projects an authentic hardwood effect when installed. The square ends and edges add to the ease of installation and seamless transition between each plank. The selections are maple, Brazilian Cherry, and tropical koa.
Other Quick Step Collections include Home & Home Sound with premium underlayment, Modello with natural wood grain patterns and Sculptique with pressed bevel and soft-scraped construction.
Visit Liberty Flooring Center showroom to know more about Quick Step flooring products. Take the step in the right direction.